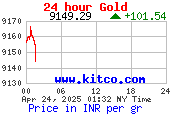 Amazing facts - Gold
Gold has been used by man for more than 66 centuries.
read more >>

Check the Current Diamond Cost Price
How to identify Synthetic Diamonds
Synthetic diamonds are different from natural diamonds in various ways and these properties can help in segregating them from each other. Since the synthetic diamonds are produced in a laboratory, they do not have the same level of inclusions and properties as the natural ones.
Using A Microscope For Assessing Diamond Clarity
Even though many gemologists use a microscope to assess the clarity of a gem or a diamond, gemological experts prefer to start with using a loupe when they start and then have a detailed look with a microscope. This is specifically so because when you use a loupe, handling the diamond becomes far easier.
Amethyst
Amethyst once the rare gem of royalty and grace has became just another attractive yet affordable gem today due to abundance of top quality material found all over the world. This fine gem gets its name from a Greek word "Amethustos" which means "not drunk" after the belief that the wearer of the gem will not suffer from excess consumption of alcohol.
Gemstone info >>
News and links from the Jewelry Industry
Monday February 20, 2017