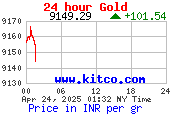 Amazing facts - Gold is very malleable
Gold is so malleable that one ounce ( approx 31.1 gms) can be hammered into a sheet so thin it would cover 100 square feet.
read more >>

Check the Current Diamond Cost Price
(In)Famous Hope Diamond- The Story Behind The Legend.
Gemstones have always been accorded with strange powers – it is said that a gemstone can either make or break you. Chief among these legends is that a spotless stone can make a man a king, while a flawed stone will assign doom upon him. Most of these legends are then further corroborated by the story of the Hope Diamond.
Take Care Of Your Pearls!
Natural pearls or cultured pearls are very delicate gems and can be easily damaged by the surrounding conditions. Thus it is extremely important that proper care must be taken while using pearl jewelry. If proper care is taken then the gems will go on without damage for centuries.
Turquoise
The name turquoise came into use only in the 13th century, when a French trader bought the gem from a Turkish market. He called it 'Pierre Turquoise' meaning Turkish stone. In 5000 B.C. the gem was first found in the form of gemstone beads in native Mesopotamia (Iraq). In the Indian market the gem is also know as the 'Phiroza'.
Gemstone info >>
News and links from the Jewelry Industry
Wednesday December 07, 2016