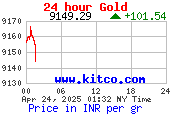 Amazing facts - Diamonds-India
In the late 1990s, India ranked first in diamond-cutting volume, followed by Israel, Belgium, New York, and Thailand.
read more >>

Check the Current Diamond Cost Price
The History of Diamond Cuts
Cutting style of diamonds have evolved over a period of time starting from point cut to round brilliant cut.
Ideas to promote your jewelry business
Advertising is extremely important for all businesses, irrespective of whether they are local small stores or whether they are part of large business units operating at a national or international level. Effective advertising creates awareness and maintains a positive image of the store. While you may spend your millions on the media side of a campaign, the effectiveness of the campaign depends on the idea and the content.
Tourmaline
Tourmalines have been extensively used in jewelry for centuries. The beautiful tourmaline gemstone owes its name to the Sinhalese word Toramalli, which means colorful. A parcel of colorful tourmaline gemstones was sent to Amsterdam from Sri Lanka by mistake and thereafter the Sinhalese name stayed on. One can find this gemstone in every colour we can think of.
Gemstone info >>
News and links from the Jewelry Industry
Thursday October 27, 2016