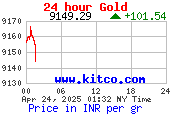 Amazing facts - Ruby
Rubies that are formed in marbles have a very good bright red colour.
read more >>

Check the Current Diamond Cost Price
Ideas for selling jewelry to women clients
It is obvious that as a jewelry designer, a majority of your target buyers are women. Women love jewelry and women spend hours and hours deciding to buy and eventually buy a piece of jewelry. So how do you go about establishing your jewelry business so that you target your client base? Here are a few tips which will guide you in establishing your jewelry business, target your client base (which is primarily comprised of women) and even retain your client base for a long time to come.
The man who sparked the diamond industry
Not many people know that the man behind the famous De Beers diamonds is Cecil John Rhodes, someone who started his association with diamonds with the simple business opportunity that involved selling water to the thirsty diggers at the mines. Cecil made it to South Africa after his brother had been hit by the diamond fever. But Cecil had plans that were far grander than being a common diamond digger.
Ruby
The ruby gemstone is next only to the diamond in terms of hardness and pricing. For a ruby to be born in the natural environment, a perfect combination of aluminum oxide, correct temperature, correct pressure in the earth's crust and very low silicon content is a requisite. This makes rubies very rarely available gems in nature.
Gemstone info >>
News and links from the Jewelry Industry
Friday July 21, 2017